Transforming Hospice Care: The Impact of Medalogix Muse at BAYADA
November 07, 2023
In a recent interview with Amy Hirsch, Chief Clinical Officer, and Sandra Wiggins, Senior Manager of Clinical Support, Hospice at BAYADA, we gained valuable insights into how the Medalogix Muse solution is revolutionizing hospice care at BAYADA. Amy, with her 17 years of experience in hospice nursing, shared her inspiring journey from a dedicated nurse performing CPR to a passionate hospice advocate, embodying the essence of compassionate healthcare.
The healthcare industry, particularly in hospice, is marked by constant adaptation to new rules and guidelines. Amy and Sandra shed light on the challenges they face due to this ever-changing environment. The integration of innovative technology, including Muse, brought both excitement and challenges. Amy expressed her profound love for hospice care, underscoring the significance of viewing patients as unique individuals – a sentiment shared by many in the field.
Among the challenges discussed were staff burnout and the considerable time spent on Electronic Health Records (EHRs) and documentation. According to the US Department of Health and Human Services, nurses can spend up to 41% of their time on EHRs and documentation, making it a pressing concern. Enter Muse – a game-changing solution that significantly reduced the time spent on chart reviews, providing a comprehensive patient overview. Amy highlighted how Muse saved her valuable hours weekly, enabling her to assess patient situations swiftly and make informed decisions promptly.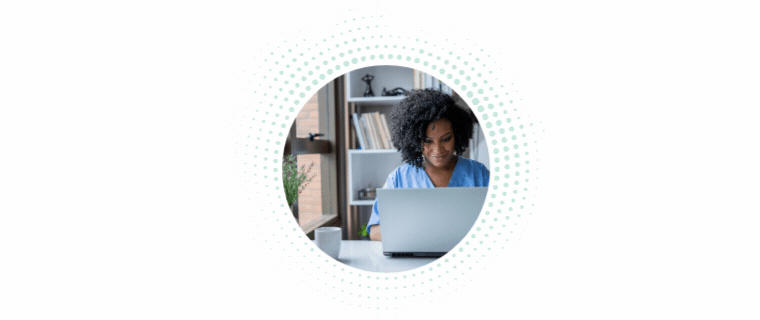 A standout feature of Muse, as Amy pointed out, was its ability to validate assessments and identify patients in transition. Amy stressed the impact Muse had on patient-centered care, enabling the clinical team to concentrate on critical cases and deliver timely interventions. Sandra added that Muse played a pivotal role in educating less experienced nurses, helping them comprehend and document patient needs effectively.
The impact of Muse extended far beyond operational efficiency; it positively influenced patient care, staff satisfaction, and regulatory compliance. By offering an intuitive toolset, Muse empowered the dedicated staff at BAYADA to focus on quality care and productivity. This empowerment facilitated a shift towards a more personalized approach, ensuring that patients received the tailored care they truly needed.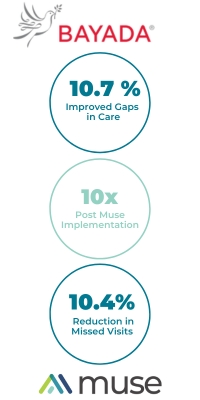 Sandra shared invaluable advice for future Muse users, stressing the importance of starting slowly with the basics and gradually exploring the multitude of features Muse offers. Breaking down the training process and setting achievable goals eased the transition and showcased the significant impact on their daily work.
In summary, Medalogix Muse has profoundly transformed the way hospice care is delivered at BAYADA Home Health Care. It has streamlined operations, enhanced patient care, and provided invaluable insights that empower healthcare professionals to make well-informed decisions. In an ever-evolving healthcare landscape, solutions like Muse play a pivotal role in ensuring that patient-focused, high-quality care remains the cornerstone of hospice services. Visit our Muse page to learn more about our hospice software solution.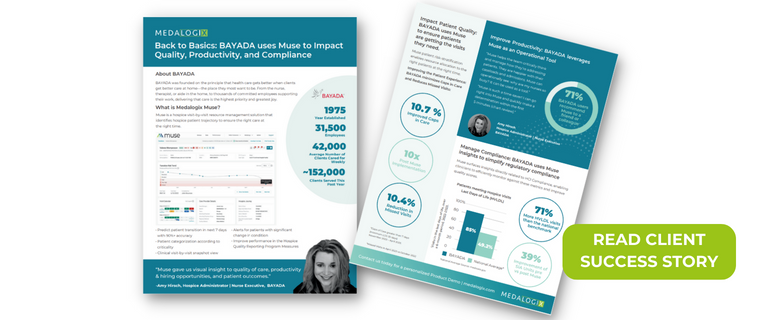 Related Blogs