Medalogix Pulse: Transforming Clinical Operations and the Patient Journey via Risk-Based Care
August 23, 2023
It may be an understatement to say that managing the day-to-day operations of a home health agency has become more complicated in recent years. In fact, balancing clinician staffing with patient care needs has grown in complexity, especially when considering the need for existing population oversight while simultaneously managing business growth via the acceptance of new referrals. A recent Home Health Care News article indicated that "In 2022, 76% of patients being referred to home health agencies were not able to receive care services…" And that trend shows signs of continuing. What's at the root of the referral denial problems? Some point to lingering pandemic-related clinician shortages and fewer home health agencies doing business. Others point to the fact that patients being referred to home health are generally higher acuity and requiring more utilization across multiple disciplines. What is known is that in the wake of this new way of doing business, providers are in the position of having to manage their existing patients and staff judiciously. Some have cut visits, in fact the average visits per episode (VPE) from MedPac data shows that in the last three reporting years, VPE has dropped from 20.4 to 17.6. Those who have accomplished reduced VPE have done so via developing protocols based on diagnoses or industry benchmarks for PDGM clinical groupings, but at what cost? The downside of a VPE squeeze for all approaches, without insight into individual patient characteristics beyond diagnoses or PDGM-driven data, can lead to a negative impact on hospitalization rates and patient satisfaction. In fact, patient survey (HHCAHPS) data, from 2022 Q1 to 02022 Q4 was recently released with results showing a decline in overall and home health Star ratings have declined in the survey summary rating, 3.6.
Fundamental to the problem is that clinicians do not have a daily, reliable measure of individual patient hospitalization risk to inform the urgency and prioritization of care across the entire population. Medalogix Pulse reinvents the way home health providers manage their population by surfacing individual patient visit-by-visit 14-day hospitalization risk to help solve the complex problem of balancing limited clinical resources with patient-specific care needs.
About Medalogix Pulse
At the core of today's industry challenge is the need for providers to deeply understand their population so that care decisions can be made based on individual patient characteristics versus protocols alone. That's where the value of Pulse lies. By merging a snapshot of visit-by-visit hospitalization risk alongside population-level operational insights, Medalogix Pulse uniquely and powerfully provides clinicians with a vantage point that allows for true clinical oversight of an entire population. A lens through which individual patient care decisions may be made while simultaneously considering the needs of the rest of the population.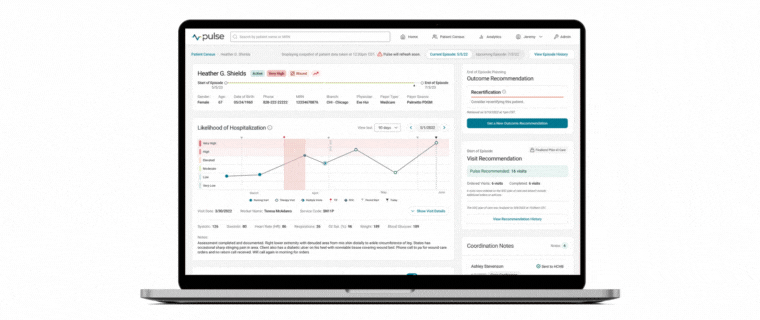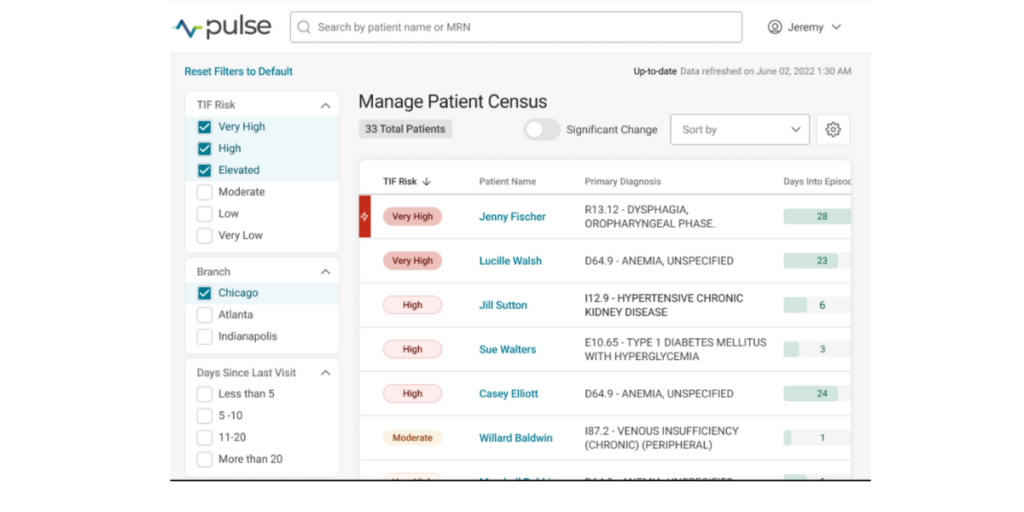 Medalogix uses complex natural language processing models developed using patient visit notes, narratives, assessment items, diagnoses, and worker and branch attributes to drive predictions. In fact, our data source consists of:
13.3 million unstructured data points,
600 million words, and
1 billion attributes, including over 50 thousand assessment questions and diagnoses codes.
The rich data fueling Medalogix Pulse allows for its highly reliable and predictive risk for hospitalization. After each skilled visit, the predictive model "scores" the data and assigns one of six risk levels, Very High being the highest, to Very Low, being the lowest. Users can be confident in basing care decisions on this model as 94% of historical patients who had a hospitalization occur had a least one visit scored in the top three levels of risk. By centering care coordination and monitoring efforts in the highest levels of risk, providers are then able to pinpoint which patients need immediate attention and intervene accordingly.
Medalogix Pulse customers are using the power of hospitalization-risk model to manage and improve care across the home health patient journey:
At start of care, resumption of care, and recertification timepoints clinicians leverage Pulse hospitalization risk to inform type, amount, frequency, and timing of visits during the care planning process to support individualized care-planning.
With daily population-level visibility into patient hospitalization risk, clinicians are easily able to monitor for overutilization and underutilization and determine, at a glance, where to focus efforts with further care coordination and potential intervention to avoid hospitalizations.
During planned or ad-hoc case conferences, Pulse hospitalization risk informs care coordination conversations to help determine. appropriate intervention.
When approaching the end of episode, hospitalization risk provides valuable data to help inform the decision to recertify or discharge and plan care around, accordingly, supporting quality care and hospitalization-avoidant recertifications.
Within quality improvement programs for concurrent hospitalization prevention programs or retrospective chart audits to enhance coordination of care and identify opportunities for improvement.
With the reality of continued industry regulatory headwinds, balancing valuable clinician resources with individual patient needs becomes even more important. Without Pulse, clinical leaders must rely solely on manual EMR documentation review, running multiple reports, and direct clinician conversation, culminating what may be valuable information for one-off planning but short of what is needed to inform near real-time risk-based care. In contrast, by providing a daily lens into individual patient hospitalization risk, Medalogix Pulse allows for the clinician leaders who are managing day-to-day patient care, to have "true clinical oversight", stated a Medalogix Pulse clinical leader from customer Mission Healthcare. That oversight allows for prioritization of care and the execution of tactical efforts to mitigate risk to prevent emergency department use and hospitalization, resulting in a win for satisfaction, with clinicians at all levels of the organization confident that swift risk-based decisions are being made to support the delivery of quality patient-centered care.
Reach out today to learn more about how our customers are transforming clinical operations and the patient journey with Medalogix Pulse.
RESOURCES
https://homehealthcarenews.com/2023/08/amid-historically-high-rejection-rates-heres-how-home-health-providers-are-maintaining-positive-referral-relationships/
https://www.medpac.gov/wp-content/uploads/2023/03/Ch8_Mar23_MedPAC_Report_To_Congress_SEC.pdf 
Related Blogs